Pro Residential Demolition Dumpster Services in Loxahatchee, FL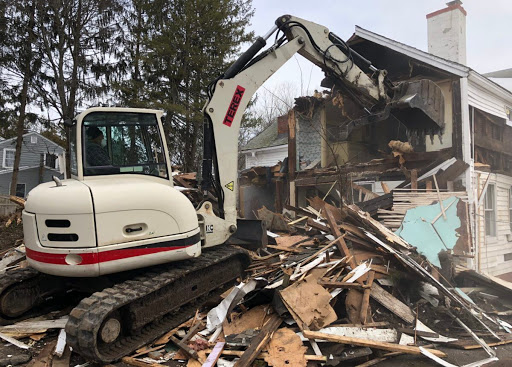 However much we love our homes, there may get a time when we are forced to demolish some structures or the entire homes. Many things can be demolished in a residential property. Whenever you carry our such operations, you will have wastes and debris that need to be hauled away.
Demolition is of two types: light demolitions and heavy demolitions. Light demolition involves small interior projects such as ceiling removal and flooring removal. If the ceilings in your house no longer interest you, then you can arrange it so that you get professionals to do away with it. Or, if it is a change in flooring, then you will need to remove the old ones and install the desired type. In both actions, you will have resultant wastes that you have to deal with.
Heavy demolition is not very common in residential areas as it is the last thing that a homeowner can think of. However, if there is no choice, then the entire house or structure has to be brought down. The reasons for this vary and is best known or best understood by the property owner who orders for it. When it happens, you will need to properly take care of the wastes.
Residential demolition waste management
---
Loxahatchee Junk Removal and Trash Haulers offers Residential Demolition Dumpster Services that you can rely on to get your wastes hauled away. This is a company that has served for many years providing reliable and affordable dumpster rental services to all the residents of Loxahatchee.
We are all set to make your residential demolition task very easy. You can cheaply rent a dumpster container from us for collecting all the demolition wastes, whether from light demolitions or heavy demolitions. After demolition, you should be careful in the way you handle your wastes. If possible, then you can get your dumpster a day before the beginning of the demolition project. Our rental period will begin from that day and not on the delivery day. So, you will better manage all the wastes as you get them.
Dumpster and Hauling Services
---
Loxahatchee Junk Removal and Trash Haulers offers both dumpster and hauling services that we can depend on to have everything done. You will load the wastes and debris in the roll-off container and then signal us to come to pick it up. We have a fleet of dumpster trucks that can take all the wastes away from the site. We know that some of the wastes may need to be removed very fast. That is also possible with the services that we offer.
Turn to us for any waste collection and hauling services. As mentioned, we serve the entire State of Florida. The residents here have greatly benefited from the services that we offer. Just contact us to access the services. We offer dumpsters and hauling services like no other. By just a click of a button, you can have a dumpster that you need to be delivered to you.
Here is a list of our services you can get at Loxahatchee Junk Removal and Trash Haulers:
---
Loxahatchee Junk Removal and Trash Haulers is the top company in Palm Beach County that offers the best residential and commercial junk removal services. Here's our additional services:
---