Pro Office Clean Outs & Junk Services in Loxahatchee, FL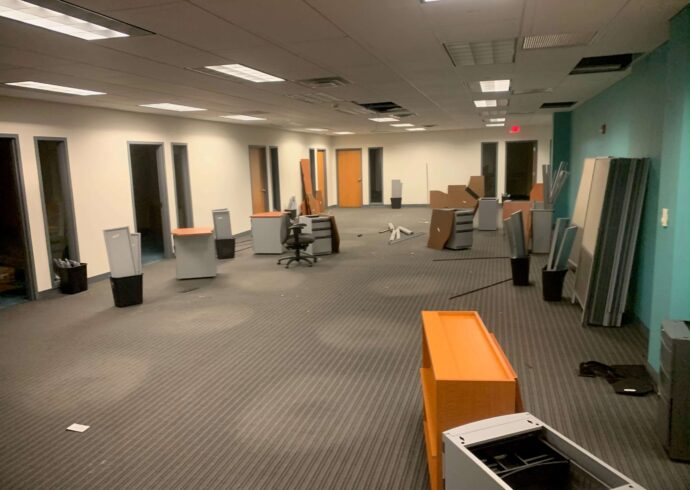 Our team at Loxahatchee Junk Removal and Trash Haulers is only formed by reliable and professional members who are properly trained in the field to quickly load and transport all office furniture and appliances you have in your office. This will ensure that your office is completely cleaned out and organized in no time. We are the best company to clean out your office and focus on how the entire disposal is handled since we don't rely on landfills but only on the best recycling facilities and transition centers.
All office furniture can be recycled when we clean out an office space. If they are in good condition, we'll even donate them, and you will get a tax ticket you can use due to how the furniture and items are being disposed of.
We are proud to say that over 70% of the junk we take away is recycled or repurposed. Also, we never allow trash to end up in landfills. This is part of environmental pollution, and we support green solutions.
We either recycle them or move them to the most suitable transition centers. This allows us to focus on all that can be saved, and you won't have to worry about how our team will handle the entire process for you.
Depending on the item's condition and possible use, some items can be donated. We can reduce waste and dispose of the rest by using recycling facilities that we have or have partnered with.
We Can Help with Office Clean Outs on the Same Day
Our company provides a professional service to remove all non-hazardous items from your office. If there is a lot of junk in your office, we can help. Or you can just organize and sort the items based on what you need and what you want us to organize and sort out in the space you have.
We provide top-quality services for everyone in Loxahatchee. We are happy to assist you if you are located nearby as well.
Many commercial customers request that we accept items like:
Furniture.

You can find construction debris and renovation residues at the office, so we remove them as well.

Cubicles that you are removing.

Office equipment.
You can contact us via phone or using our contact page, or emailing our team. We will visit you at your convenience and offer you a customized quote tailored to your office and needs. It is simple to do everything with us.
You can do the work in one day or schedule an appointment to fit your busy schedule since we are always available to take on the request you make to our company.
You can either call our friendly staff to schedule an appointment or go online. We will arrive on time to take away any junk or other items. We will take out all paper and junk from your office in order to make it ready for a new employee.
Are you planning to renovate or remodel your office? Do you want to eliminate clutter from your office? Talk to us about what you need, and we will be there for office clean outs, junk removal, and more without issues.
Rest assured, the estimate we give is only based on your budget and available funds. If necessary, we will consider your financing options. We only do what you need and give the best support and attention.
Here is a list of our services you can get at Loxahatchee Junk Removal and Trash Haulers:
---
Loxahatchee Junk Removal and Trash Haulers is the top company in Palm Beach County that offers the best residential and commercial junk removal services. Here's our additional services:
---